Amazing facts about Pollock
High content of vitamin A in Pollock liver
Regulates blood sugar
The daily rate of iodine is in 100g.
Hypoallergenic product
Source of Omega-3
Diet product
Unique source of protein
Natural antioxidant
Pollock is an indispensable part of the diet for healthy and energetic people
It is recommended for baby and dietary nutrition preventing cardiovascular diseases and supporting health of immune and nervous systems.
Dietary source of protein
per 100 g of product
Proteins, gr
Fat, gr
Carbohydrates, gr
Cottage cheese (5%),
145 kcal
Boiled red beans,
127 kcal
Сontent of nutrients in 100 g of the product
volume /% of the daily value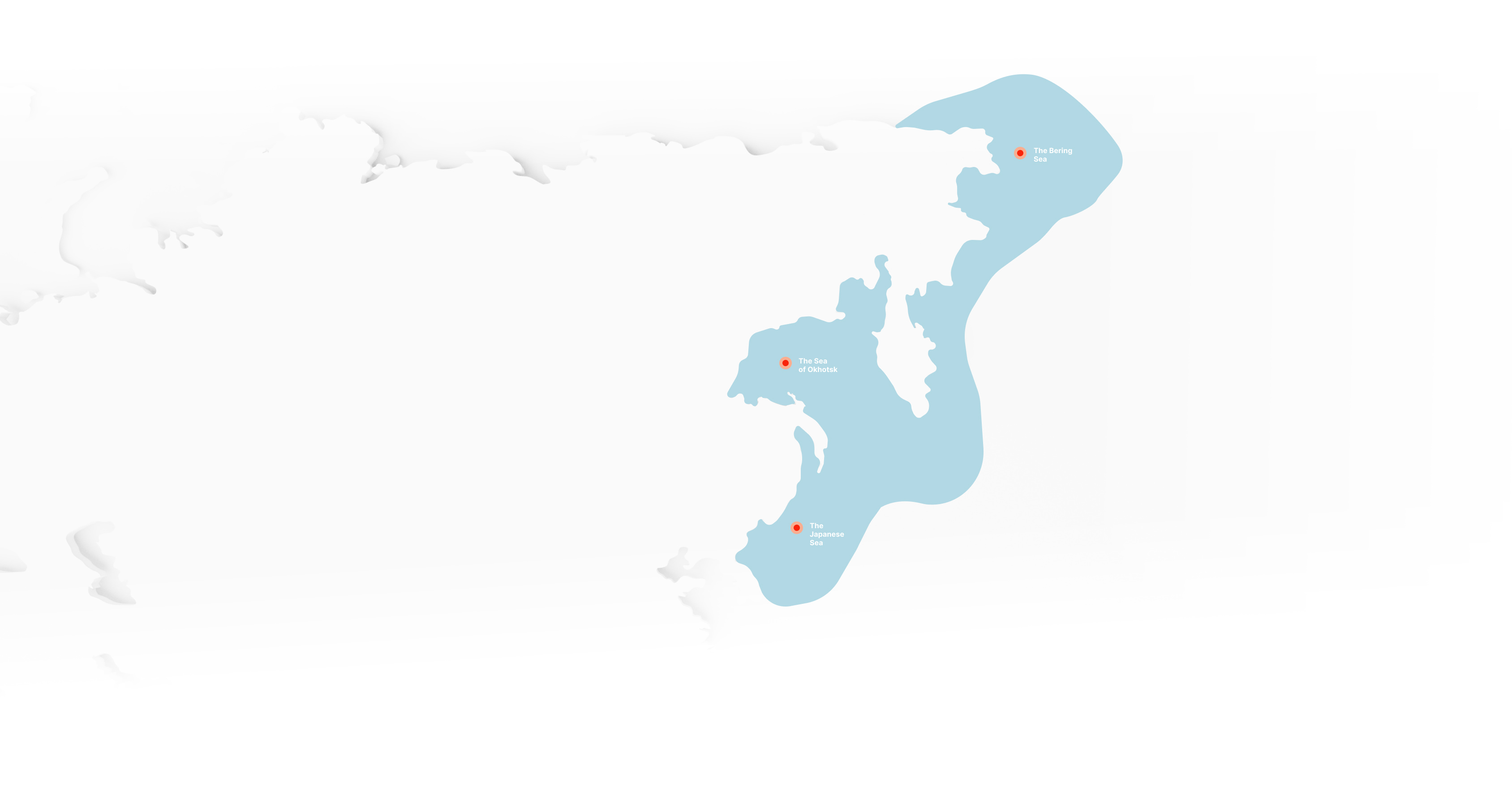 Pollock in the Pacific Ocean
Pollock is the most abundant fish in the North Pacific Ocean. It is found in the Okhotsk, the Bering and the Japanese seas. Pristine waters ensure ecological cleanliness and high quality of fish.
What does Pollock look like?
Bentho-pelagic coldwater fish relates to the Gadiformes order, the Cod family and the Pollock genus.
up to 15
years life expectancy

Head
Looks large in relation to the body
The lower jaw
protrudes forward and catches small animals in the water
The whisker
(under the lower lip) performs a tactile function, catching the movement of prey at depth in conditions of poor visibility
Fins
3 dorsal fins
2 anal fins
2 pelvic fins
2 pectoral fins
Scales
Small and silvery, near the ridge the color is noticeably darker
Body
Elongated, tapering towards the tail
Body pattern
Dark brown spots on the upper part of the body
Ecology-oriented protein
In the production of Pollock products on the vessels of the RFC, the level of carbon dioxide emissions per ton of products is several times lower compared to the cultivation of fish, as well as chicken, pork and especially beef.
When fishing and manufacturing Pollock products, the Company does not actually use fresh water. The necessary demand for fresh water is met by desalting seawater on the trawlers' sides.
CO2 emissions per kg of product (live weight)
Consumption of liters of fresh water per kg of product (live weight)