Back to news
Russian Fishery Company contributed to the renewal of the ambulance fleet in Primorye
11/16/2018
The Khasan Central Regional Hospital (Primorsky Krai) purchased three ambulances with funds received from LLC Russian Fishery Company. The four-wheel drive Ford Transit cars assembled in Germany are equipped with modern facilities to provide emergency medical assistance to residents of the Khasansky district. The total cost of vehicles and equipment amounted to 12 million rubles.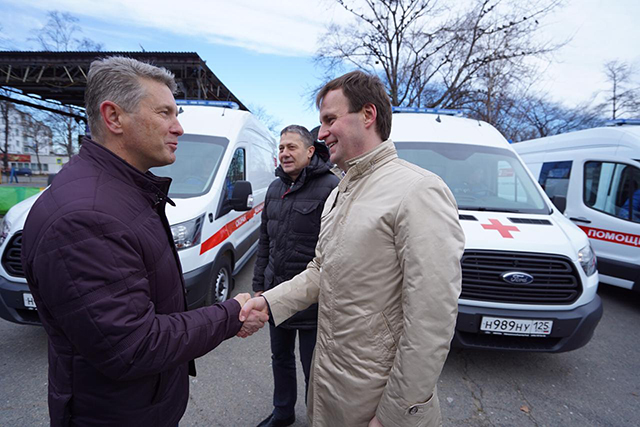 The cars handover ceremony was attended by Oleg Kozhemyako, acting governor of the Primorsky Territory, Fedor Kirsanov, RFC CEO, and Yevgeny Makhinya, medical director of the Khasan Central Regional Hospital.
"Health is the main value that you can not buy for money. But we can help hospitals, doctors in their difficult and important mission, - said RFC CEO Fyodor Kirsanov. - Primorye is a native land for the RFC, therefore, we consider the support of Primorsky Territory healthcare and our fishermen helth to be the most important direction of the company's social policy, which we will continue to develop."
The new cars equipment allows giving inhalation anesthesia, carrying out artificial ventilation, defibrillation, infusion therapy and other necessary measures in the provision of emergency care and transportation of patients.
"New cars are equipped with everything necessary to provide emergency and urgent medical assistance and safely transport patients, including those in serious condition, with maintenance of vital functions at the level of modern standards, - medical director of the Khasan CRH Eugeniy Mahinya commented. - The availability of the all-wheel drive makes these vehicles indispensable for rendering first aid in difficult weather conditions, hard-to-reach places and on the coast of the Khasansky district, especially during the period of mass recreation of guests and residents by the sea in the summer."
Ambulances will be available to the specialists of the Khasan CRH and will go on the line in the coming days.
Russian Fishery Company (RFC) is one of the leaders in the production of wild white fish in Russia. The company was established in Primorsky Krai, where its business is concentrated. The RFC follows the principles of social responsibility and pays special attention to programs aimed at improving the quality of life in Primorye, where the Company's employees and their families live and work.
For additional information
please contact Dmitry Kravchenko
e-mail: dmitry.kravchenko@russianfishery.ru