Back to news
Russian Fishery Company launches the production of a new product under its own brand
11/06/2018
"Russian Fishery Company" (RFC) started the production of fish fingers in 250-gram packing at the facilities of the "Espersen Group" in Russia. Espersen is the world leader in the production of frozen fish products.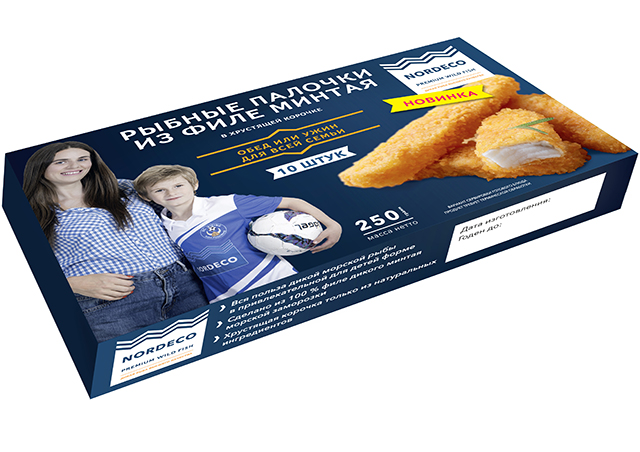 Fish fingers will be available to consumers in Russia later this year.
"We are going to re-introduce such a product as fish fingers to the Russian consumer," - commented the RFC CEO, Fyodor Kirsanov. - "We offer the market new products of the highest quality - from a frozen at sea Alaska Pollock fillet, which preserves the healthy elements and the pure taste of this fish."
In the near future, the "Espersen Group" will also begin production of portioned Alaska Pollock fillet in packaging 400 grams and minced Alaska Pollock meat of the highest category in packaging 450 grams for RFC.
Products in the "ready to cook" category will be produced under the own brand of RFC "Nordeco" in the amount of 5-6 thousand tons per year. All Nordeco products are made from fillets and minced meat of Alaska Pollock frozen at sea. During processing, the fish is not defrosted, which ensures high quality of the product.
In addition to the production at the facilities of the Espersen Group, the RFC produces Alaska Pollock fillets in 1 kilo packaging under the Nordeco brand directly on fishing trawlers. Since this year, the production of Alaska Pollock mincemeat in the same packaging has also been mastered.
The start of retail sales of Nordeco products is scheduled for the end of this year.
Since the beginning of 2019, the products of the combined brand "Agama-Nordeco" will also appear on the shelves. Under this brand, portioned fillet and minced meat from block fillet and Alaska Pollock mince will be produced, as well as Alaska Pollock fillet in individual packaging. All products will be manufactured at the facilities of the Agama company from single-frozen RFC fish.
For additional information
please contact Dmitry Kravchenko
e-mail: dmitry.kravchenko@russianfishery.ru