Back to news
The applications of the Russian Fishery Company for the construction of vessels and onshore plant under the state investment quota program approved
04/22/2019
The Interdepartmental Commission of the Ministry of Agriculture of the Russian Federation and the Federal Agency for Fisheries approved for participation in the auction of the Russian Fishery Company application for the construction of four vessels and a coastal plant in the Northern Fishery Basin. The decision to hold an auction was made due to a high number of bids, exceeding the amount of quotas allocated under the state program.
According to the results of the auction, the volume of quotas that the RFC will be provided with, as well as the number of vessels to be built will be determined.
The company plans to build the new vessels at the Admiralty shipyards (St. Petersburg), where it has the appropriate option. This year two of six RFC vessels, the quotas for which were fixed in the previous rounds of the investment quota program, were laid here.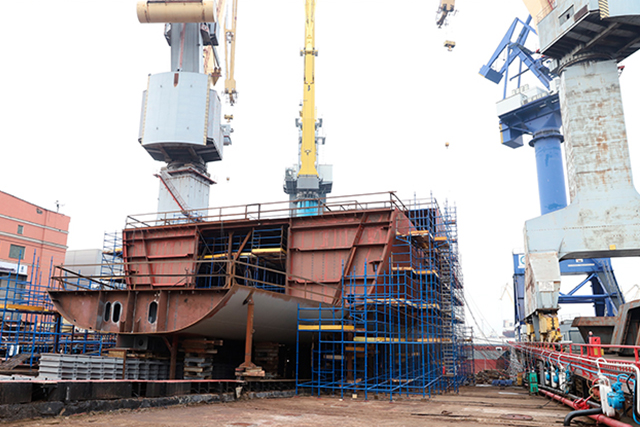 The construction of a plant for processing cod and haddock is planned in Murmansk, where today the RFC, together with the Agama Group, is building a similar enterprise, "Russian cod". Commissioning of the first plant is scheduled for this year.
"The Russian Fishery Company is focused on active and long-term development," commented Fedor Kirsanov, RFC CEO. "Today, as part of the investment quota program, we are building six super trawlers and two fish processing plants. New capacities will be put into operation during the current year and the next four years. This means that very soon the RFC will have a fleet of a new level of efficiency and safety and will provide the possibility of processing up to 100% of the catch into high value added products. Investment projects, which will be launched as a result of the auction, will be another step in strengthening the company's leading position in the field of wild white fish mining and processing. "
The vessels, which will be constructed after the auction, are similar to those under construction today. These are super trawlers with a length of 108 meters, each of which is designed for catching and processing more than 50 thousand tons of fish per year.
The vessels will be equipped with a modern factory for the deep waste-free processing of the entire catch into high value-added products, first of all, Alaska Pollock fillets and surimi. The capacity to produce products with high added value is more than doubled compared to existing vessels.
The design capacity of the fish processing plant in Murmansk is at least 25 tons of fillet and other products from cod and haddock per day. As well as the plant under construction today, the project will be implemented in partnership with the leading Russian manufacturer of fish products, the Agama Group.