Back to news
Russian Fishery Company and Rosrybolovstvo signed an agreement on securing a share of quota for the construction of new factory for processing cod and haddock
08/10/2018
«Russian Cod» LLC (the joint venture of The Russian Fishery Company (RFC) and the Agama Group) and the Federal Agency for Fishery (Rosrybolovstvo) signed an agreement on securing and providing the Company with a share of quota of procurement (catch) of aquatic biological resources provided for investment purposes in the field of fishing - the construction of coastal fish processing factory «Russian Cod».
Fedor Kirsanov, CEO of RFC, and Petr Savchuk, deputy head of Rosrybolovstvo, signed the document.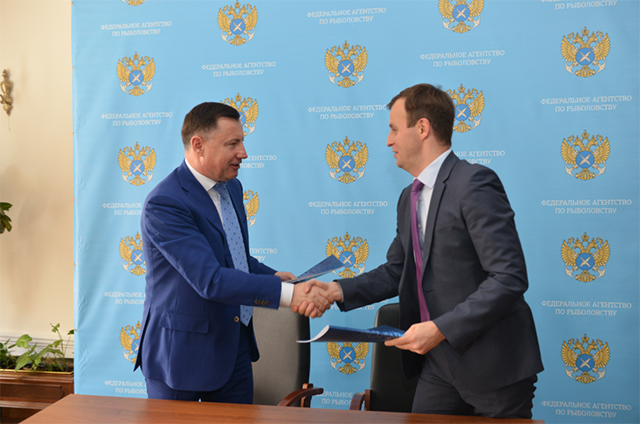 According to the agreement, RFC in partnership with the Agama Group will construct "Russian Cod" processing factory at the Northern Fishery Basin (Murmansk, Russia). The processing capacity of the factory will be more than 50 tons of finished products per day. The Company plans to put the factory into operation at the end of 2019.
«The launch of enterprises built within the investmentquot program will enable to provide the market with high-quality, diverse products. Fish is an important food required for health and longevity. Therefore, the contribution of investors to the creation of a modern fish industry and increased consumption of fish is very important», - said Petr Savchuk.
The factory will be equipped with modern high-tech equipment and will allow producing high-quality fish products - cod and haddock fillet and mince. Total investment into the project is planned at the level up to $12 ml. Starting from 2020 RFC will receive additionally 2,300 tons of cod and haddock quota (1,800 for cod and 500 for haddock) once "Russian Cod" factory is commissioned.
"The construction of the factory is one of the onshore factories is an important step of our company towards the consumer, - said Fedor Kirsanov, CEO of the Russian Fishery Company. - Together with partners, we provide a complete production chain from harvesting to a high-quality finished product. The new processing facilities provide increased efficiency and marginality of the RFC business, new jobs and additional tax deductions in the region of the Company's operation".
For additional information
please contact Dmitry Kravchenko
e-mail: dmitry.kravchenko@russianfishery.ru